It's been days again since updating. I didn't update yesterday because I spent most of the day....on my laptop lounging about in bed hungover. Reading fanfic. My current favourite hitter is
The Avengers
, unsurprisingly. And I'm easy on pairings, which is fun! With
Inception
, I wasn't adverse to reading random/rare pairings but Arthur/Eames was 90% of what I read (and most of those fics had background Dom/Mal which I also adored).
But
The Avengers
, everyone is so hot! Even Agent Coulson! (I am still in denial about THINGS). So I spend most of yesterday reading a lot about Clint/Coulson. There is a fuckton of good fic out there! Also, it seems a lot of really good BDSM fics! Life has been good to me this weekend! Except for, y'know, the hangover. REGARDLESS, any one got any good recs? I'm going to have to get some of the great ones I read this weekend rec'd out.
And today we were due to go use one of our Groupon vouchers having delicious Sunday dinner at a bar called Milo but you had to prebook so we're going next Sunday instead hopefully. Instead we cooked dinner ourselves, cleaned and did clothes washing. Adulthood eh?
Friday night was the cause of my hangover as we were out celebrating/commiserating the leaving of 3 of our admin staff! ;___; It was actually an ace night and I got hit on! It was nice! It was probably the bright red lips, dark eyes and my low-cut top. Boobs and red lips seem to do it for dudes!
Anyways it was an ace night - I had good times and even wore heels all night. I forgot to take a picture of my face but here's the same-ish make-up from a few weeks ago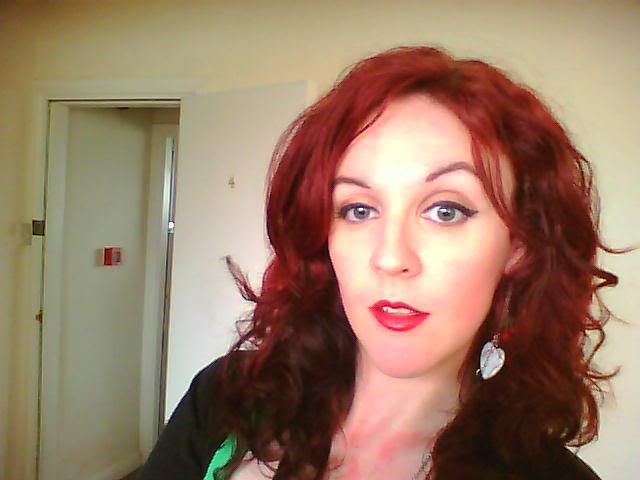 One day, I will work out the trick to a) keeping my lipstick on all night (it fades so quickly) and b) the lipstick not bleeding a few hours into the night. Is it because the lipstick is cheap? Is my lip-liner too cheap? Am I just bad at application? WHO KNOWS.
Ugh. I have eaten really badly this week and haven't drunk as much water as I normally do. I want to be healthier dammit! I'm just really bad at forward planning with lunches and what I want to eat :( Instead just this evening I've had apple pie and custard, two Wispas and a cup of tea - bad times :(