I had a weekend filled with good things! A lot of chilling, some GLORIOUS weather that hit 27 yesterday and the return of October! For those not aware, October is one of my favourite months as it leads up to Halloween!! Also, since about 2005, I have been half-heartedly taking part in something

kacfrog711
started called
Dark Art October
. Basically, it is a month of twisted fan art all through the month. Delicious.
This year I plan to be better! Last night I sat on the sofa with Dave, watching "Shaun of the Dead" (how perfect) and started to sketch. Sadly it hit midnight before the image was done but I sat up regardless and finished it. I even used colours. COLOURS. I KNOW! Markers, even! I'm actually really proud of it, even though the scanner destroyed it >:(
Lisa and burnt Alessa from
Silent Hill 1
. I have never properly played these games but I am so in love with them, TERRIFYING :D
( I think that's why I'm still walking around )
So there may be a lot more art posted in this journal over the next month. I really should be good and upload it to my art account as well -

icarusishappy
.
In other happy making news, I am doing a bit of cosplay this month so I went out in the GLORIOUS SUNSHINE yesterday to do a bit of Charity Shop Buying. And it was amazing! As I mentioned to

philosiraptor
, I got a handbag, belt, shirt, top, trenchcoat and jacket all for about £21. That's roughly $30. AH-MAZING. So I camwhored it up. With my webcam. Because I am vain like that.
Also, behold my random silly faces.
( commodity fetishism, how I have not used that tag for a while! )
What else have I done....OH YES. REMEMBER I TOLD YOU ALL ABOUT MY ZOMBIE MISBEHAVING? How could you forget? Well I woke up today and checked Facebook to have a message from one of my fellow zombies saying "you're famous!" plus another zombie tagging me in a photo. They used a photo they took of us in the lift as our Zombie Base Camp for
The Independent on Sunday
. OH MY GOD, I was so thrilled. I want a larger copy of the photo! We look awesome! Check it out for yourself:
The Zombies Are Coming
;____; so proud ;_____;
Here's the photo! Behold my RAWR face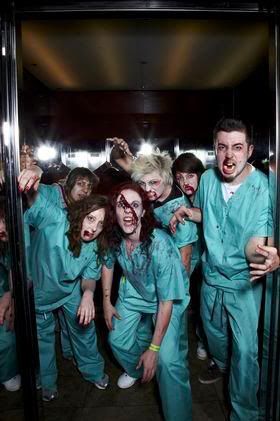 I love zombies, you guys. So much ♥
How were your weekends? ♥